Quiet oasis in best Kreuzberg neighborhood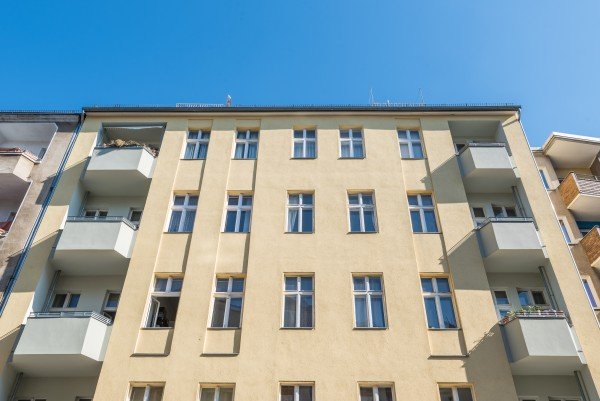 In the west of Kreuzberg, on the border of Schöneberg, in a classic Berlin building of the early 20th century about 30 apartments are for sale without commission. The special feature is the location: between Victoria Park and Park at Gleisdreieck you are right in the beating heart of Berlin and yet surrounded by green oases. Easily you reach station Yorckstraße or Platz der Luftbrücke by feet.
The property has a front house and garden house with a total of 36 mainly smaller apartments, some with two, many with one balcony. As part of the current modernization colored accents on the façade and the staircases are inplemented and additional balconies and a lift is planned in the garden house. New lighting and horticultural design of the patio provide quiet places in turbulent times.
Kreuzberg
The small district of Kreuzberg has many facets: the East close to Friedrichshain is lively with loud bars and restaurants alternating with famous clubs and the classic Berlin Späti, little shops that are opened 24/7 selling basic supplies of daily life. Walking around with open ears you will listen to a lot Spanish and English. The Kreuzberg Spreeufer is dominated by the properties of the so-called Media Spree, modern commercial buildings housing companies like Universal. However, south of the Landwehrkanal and on the border of Schöneberg life proposes in a different measure: the cozy Bergmannkiez with its small cafés and shops invites you to linger, large public parks and gardens like the Viktoriapark with it's popular waterfall, the architecturally interesting Park am Gleisdreieck and not least the generous Tempelhofer Feld offer priceless freedom – that is the true luxury of Berlin
Apartments
The 16 apartments in the front building have 1-3.5 rooms and areas between approximately 36 and 90 m².
In the garden house 20 1- and 2-bedroom apartments are located with areas of about 23-62 m². Most apartments have a balcony facing the courtyard, many of the apartments in the front building of a second balcony facing the street.
All apartments are currently rented. The planned modernization measures extend to common property as façade, staircases and courtyard. The apartments will be sold in their current state.
Sizes from 22 m² to 91 m²
Price 86,000 € to € 388,000