Representative comdominiums near the Schlachtensea
Do you want to live in Zehlendorf? Fulfill your exclusive dream of home! Very close to Schlachtensee a representative new building of a gorgeous villas settlement will arise. It consists of five harmonizing individual properties. You can reach the homes if you cross the quiet and green garden square. All apartments have balcony, terrace, loggia or garden. Each apartment will be offer with a floor space of between 60 m² and 220 m². The number of rooms varies between 2 to 5.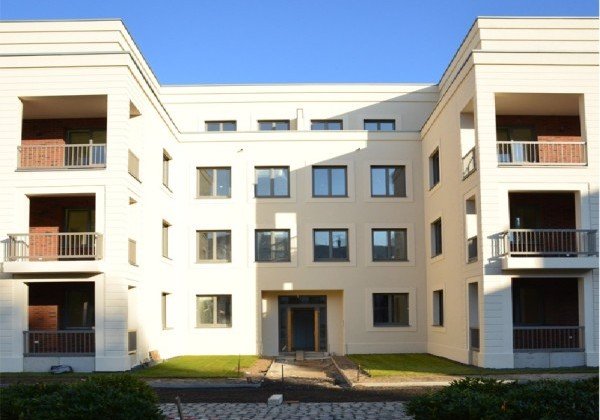 Location
Zehlendorf offers the multitude of lakes and forests and is located between Berlin and Potsdam. Your apartment is located close to the Schlachtensee with an excellent S-Bahn connection to berlin downtown. You reach the Grunewald in a short time above the station Nikolassee. Good shopping opportunities and cafes / restaurants are in the surroundings. Just minutes away are the Mexico Square with its beautiful weekly market and the Freie Universität in Dahlem. Of course, there are also several preschool, schools and medical facilities nearby. By car you can reach via the freeway A115 the center of Berlin, Potsdam and the surrounding areas.
Equipment
The floors of the apartments consist of high-quality parquet over underfloor heating. For additional safety and thermal insulation in the ground floors electric shutters are installed. The floors of the bathrooms are made of high-quality tiles. The sanitary facilities are made of stylish white ceramic. Balcony and terrace receive a separate water connection (if possible). The apartments on the ground floors have a special right to use a terrace or a part of the garden. In the penthouses there is the possibility to install a fireplace.
Sizes from 61 m² to 219 m²
Prices from 308.322 € to 1.460.907 €